Updated by Kevin Zicherman
Branding Your Campaign
The very first step in creating your new campaign is to brand it. On this tab, you will be able to choose the layout of your landing page/login page as well as set the SSID or the name of your social WiFi network. 
Creating a Campaign and Uploading a Logo

On the Campaign section of your dashboard, click the Add a Campaign button
Label your campaign through the Campaign Name field
Choose the layout of your landing page/login page
Upload your logo
Uploading a Header Image and Designing the Background
Upload your header image. You may drag and drop your image or click the Upload Header area to choose your file.
Modify your background, choose if you wish to use an image or a background color
Pick a color for your text labels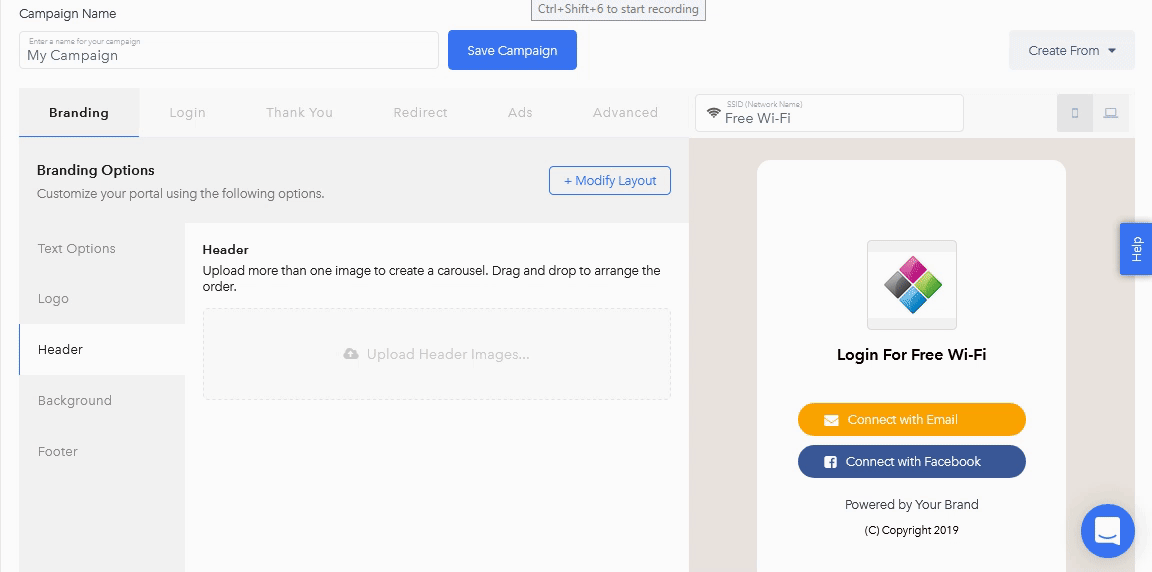 Modifying Your Footer Contents
Go to Modify Footer to edit your footer contents. 
Edit your Footer Text. You can put your own branding here. 
If you want to inform end-users of your support email or a short support note, put it in the Support Text field.
Adding Titles and Naming Your SSID/Network
 If you want to upload a footer image, drag and drop an image in the Footer Image section.
In the Title field, put the title of your landing/login page.
Finally, the SSID field will be the name of your Network that the end-users will see when they choose a WiFi network. 
Did this answer your question?