Cradlepoint NetCloud Integration
Cradlepoint NetCloud Integration
Updated by Kevin Zicherman

This guide will assist you in preparing your Cradlepoint Access Points (managed through the  NetCloud ECM) for Social Guest Access capabilities. It will also assist you through the process of associating your Cradlepoint access points with the MyWiFi system, for the purposes of managing the Social Captive Portal experience.


Retrieve the Mac Address of your Device
Login to your Cradlepoint NetCloud
Navigate to Devices in the Netcloud ECM
Locate your chosen Device in the Device List and identify the Mac Address of that Device in the table

MyWiFi Setup
Login Into the MyWiFi Control Panel with your credentials
Pre-Setup:
In the MyWiFi Control Panel, create/select an appropriate Social WiFi Campaign with the Social Media Logins and customized look of your choice.
Create/Use an Existing Location for your Installation & Assign your created Campaign as the Default Campaign for this Location.
Once you have completed those actions you can add the Cradlepoint Device in the MyWiFi System.
Click on Devices >> Add New Device to bring up the Add New Device view

Add your new Device
Enter Name of your choice for this Device
Select Cradlepoint from

Select Router Type



Select the Location you have created for this installation
Enter the Mac Address of your device that you collected from the Cradlepoint Netcloud ECM above
Click NEXT > once you have entered the appropriate information correctly
You are prompted to confirm the information & selections you entered
 Save the custom NasID you are provided on Step 2 
Click Confirm Setup to finalize the Device setup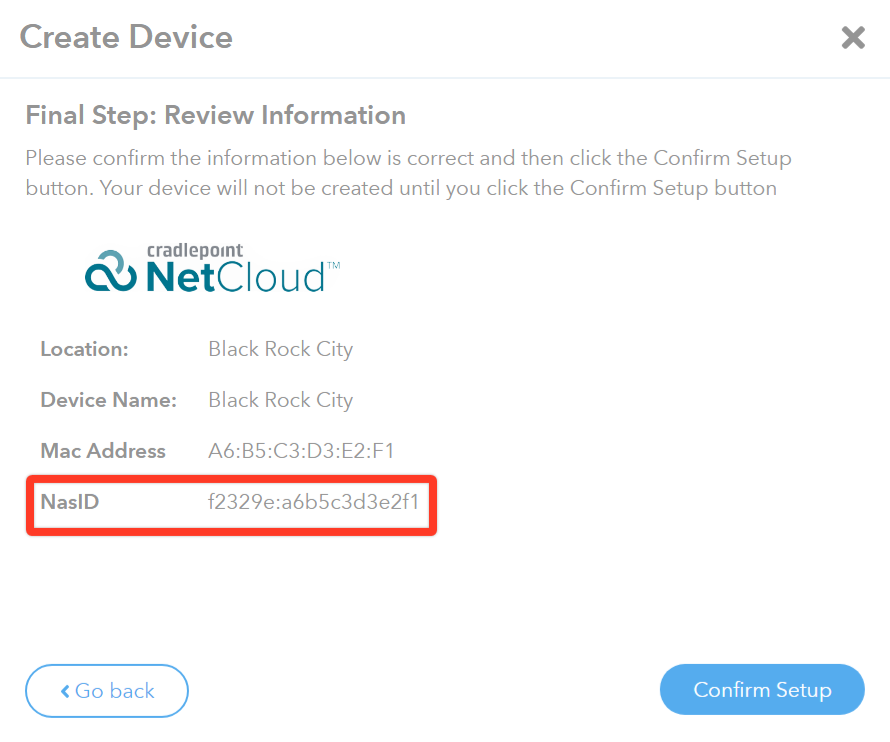 Edit your Device Configuration in Netcloud ECM
Login again to your Cradlepoint NetCloud
Navigate to Devices >> Select your Device >> click Configuration >> select Edit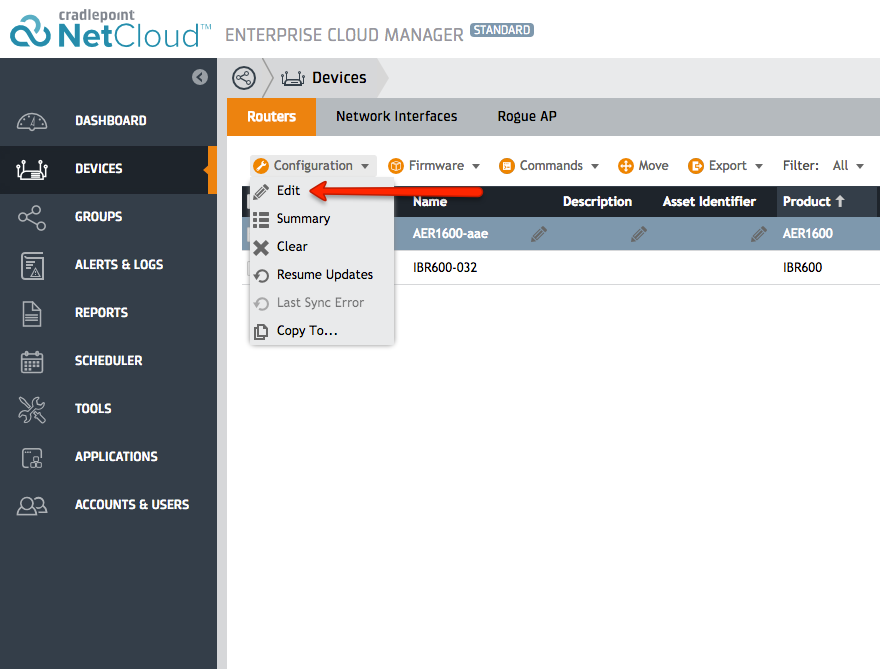 Navigate to the Networking Section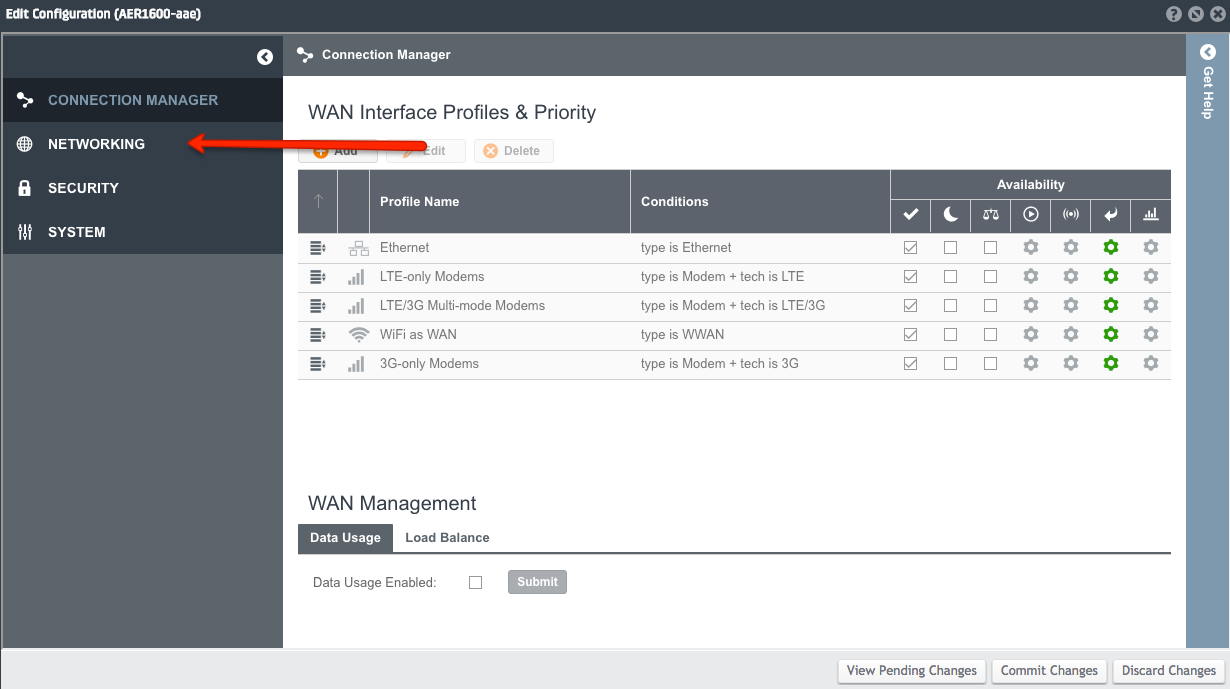 Configure the Wireless Network
Navigate to: Network >> Local Networks
Select the WiFi Radio you want to Configure 
We recommend you configure the 2.4GHz network and optionally the 5GHz Network.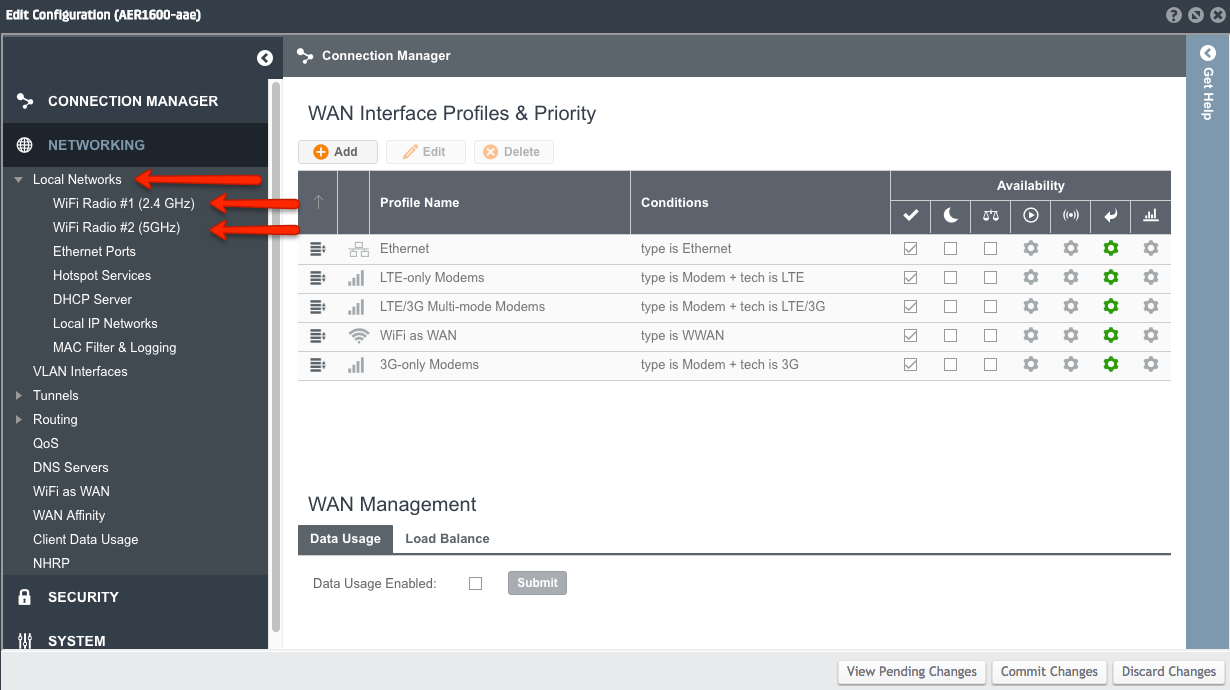 Select your Wireless Network and Edit the configuration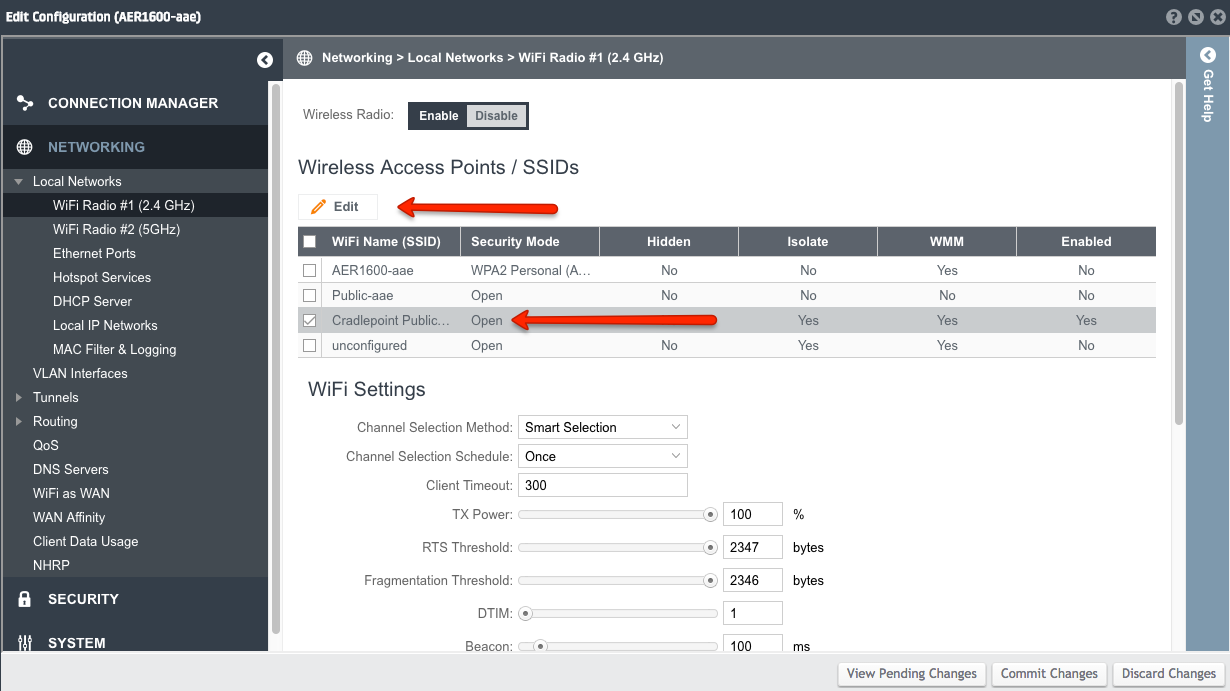 Wireless Settings:
Configure your Wireless Network Settings as follows:
WiFi Name (SSID): [SSID name of choice]
Hidden: unchecked
Isolate: checked
WMM: checked
Enabled: checked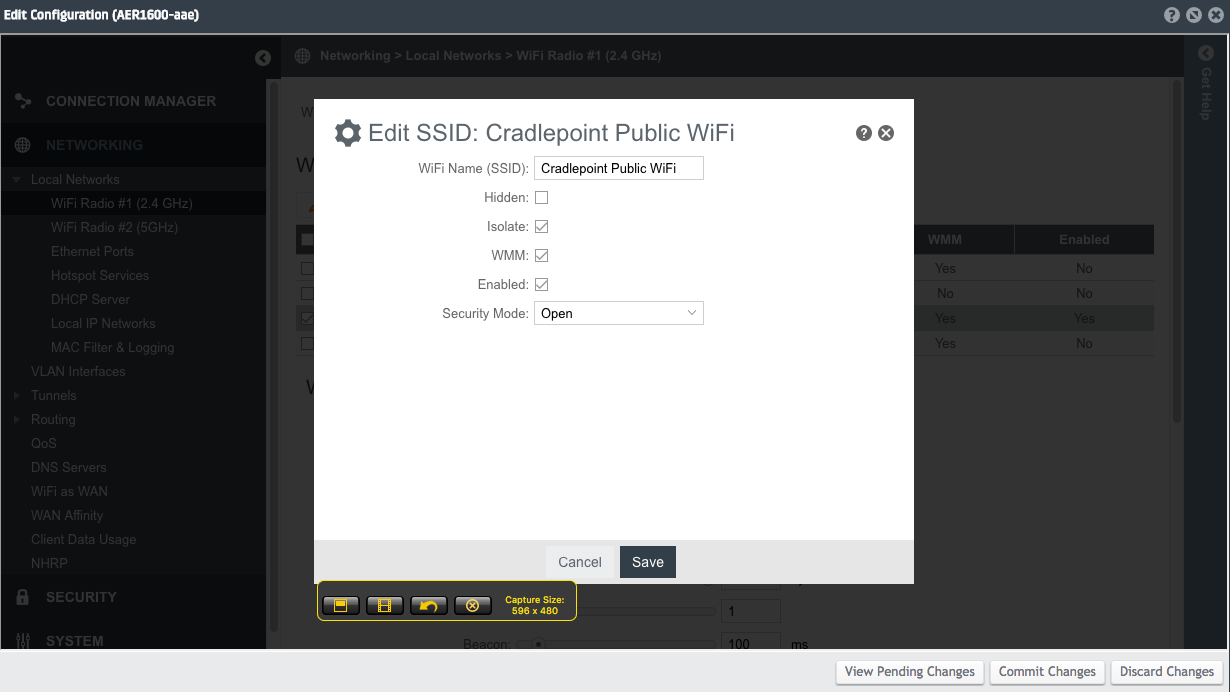 Guest LAN Configuration:
Navigate to Networking >> Local Networks >> Local IP Networks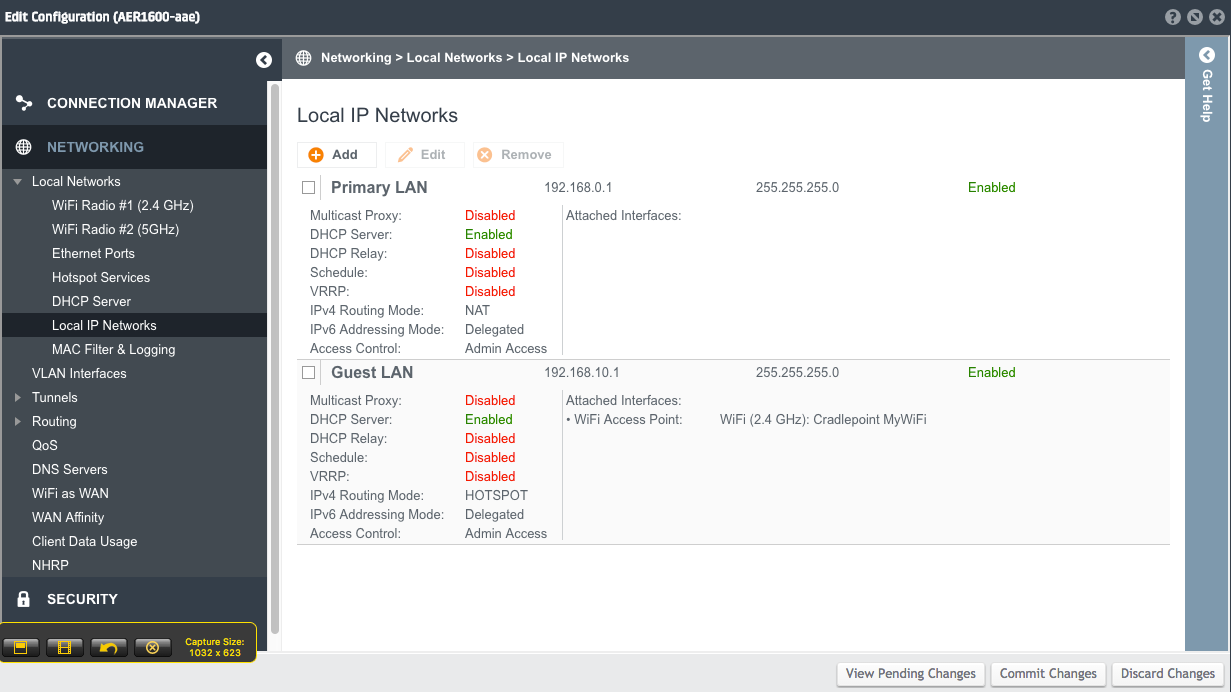 Select Guest LAN & click Edit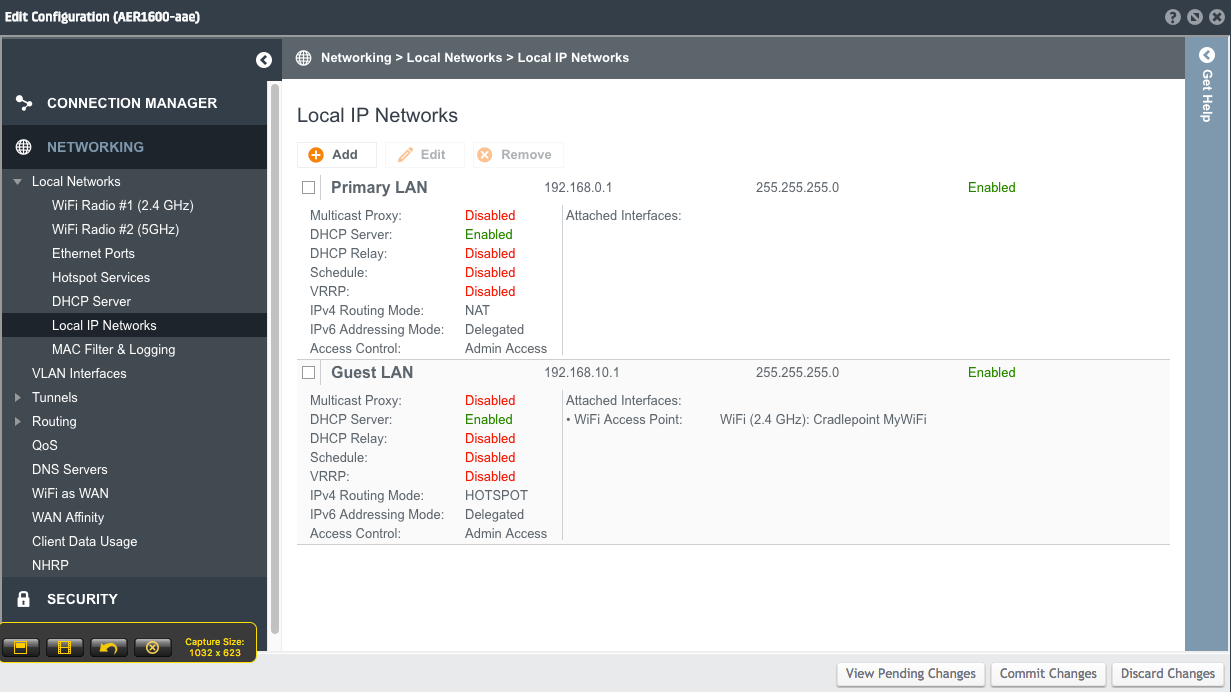 Navigate to the IP4v4 Settings section and set the following:
IPv4 Routing Model: Hotspot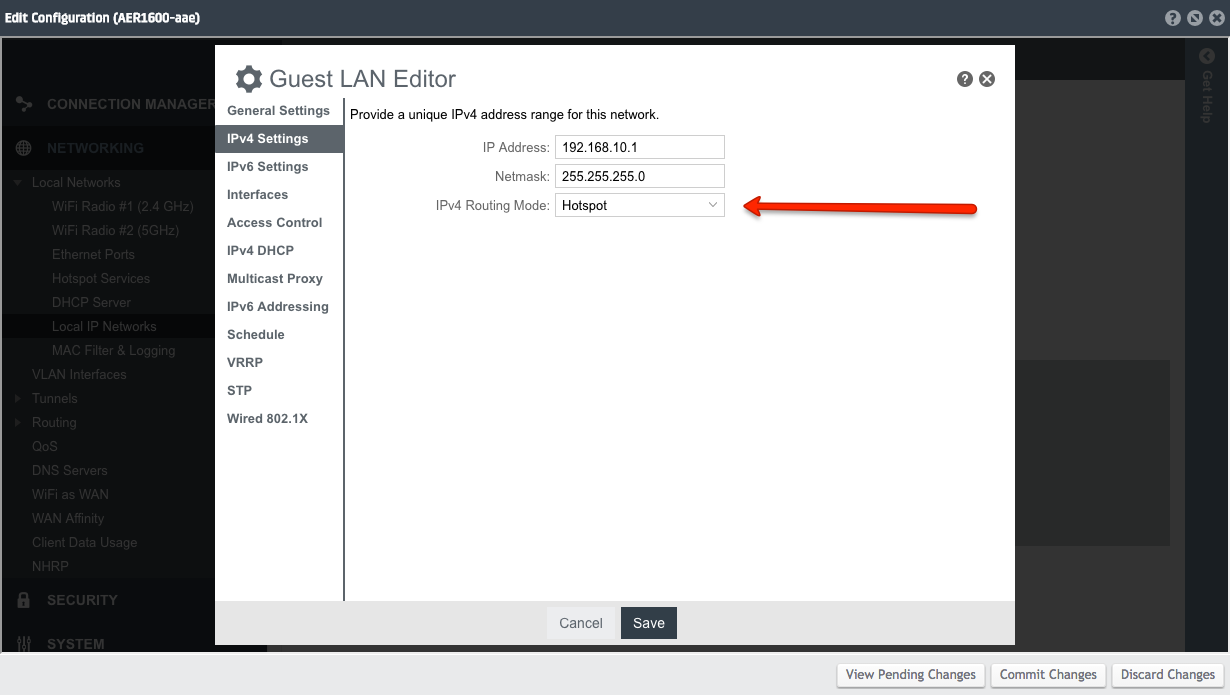 Navigate to the Interface section and make sure your previously chosen Wireless Public Network(s) are listed under Selected Interfaces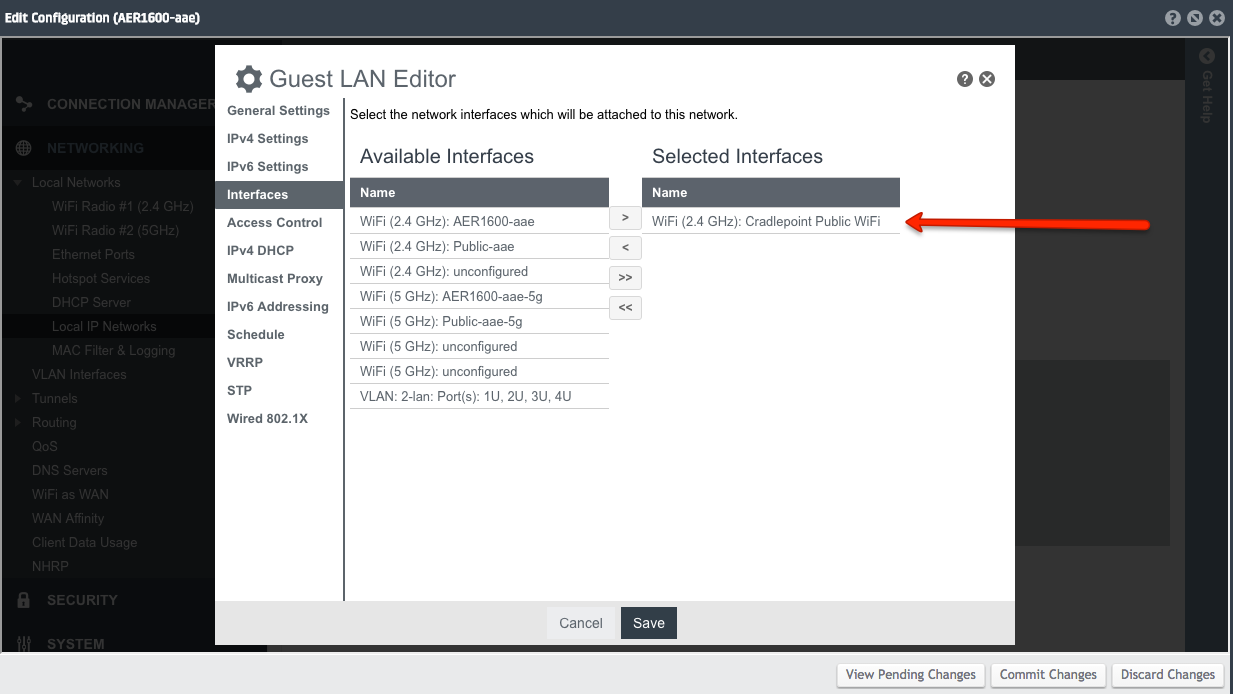 Configure Hotspot Settings
Navigate to Local Networks >> Hotspot Services
Select & Enter the following Hotspot Settings
Hotspot Mode: RADIUS/UAM
Local IP Network: Guest LAN
Hotspot/UAM Authentication Port: 8000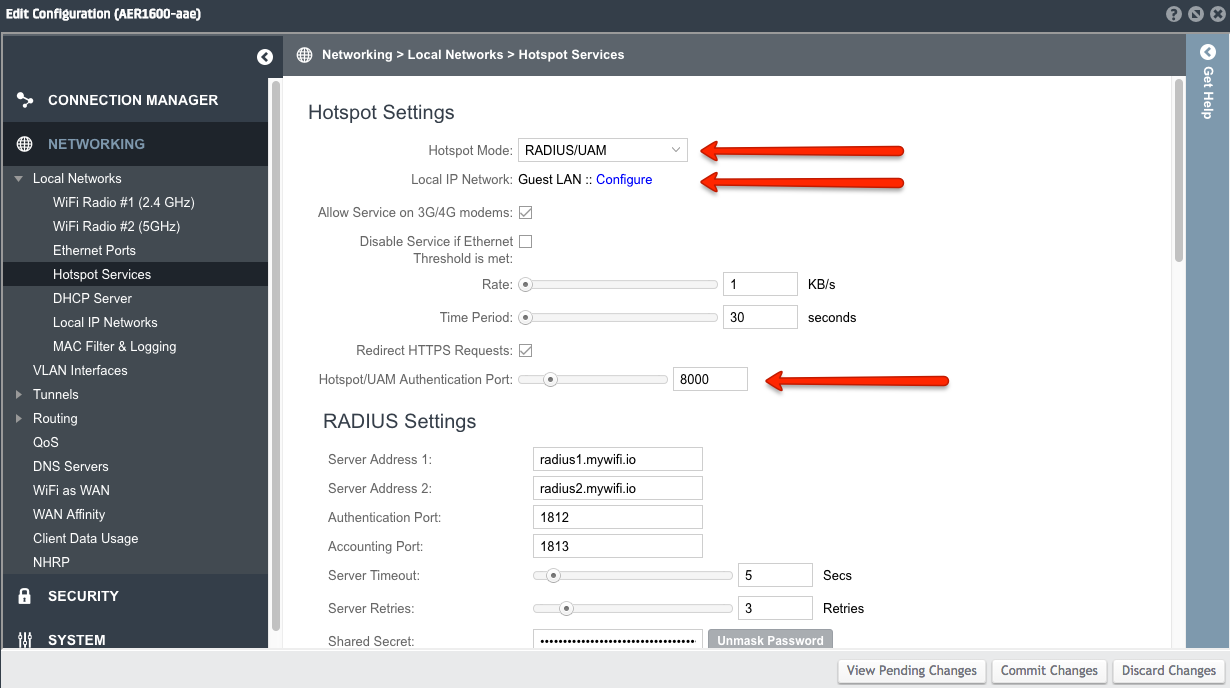 Enter the following Radius Settings 
Server Address 1: radius1.mywifi.io
Server Address 2: radius2.mywifi.io
Authentication Port: 1812
Accounting Port: 1813
Shared Secret: mywifi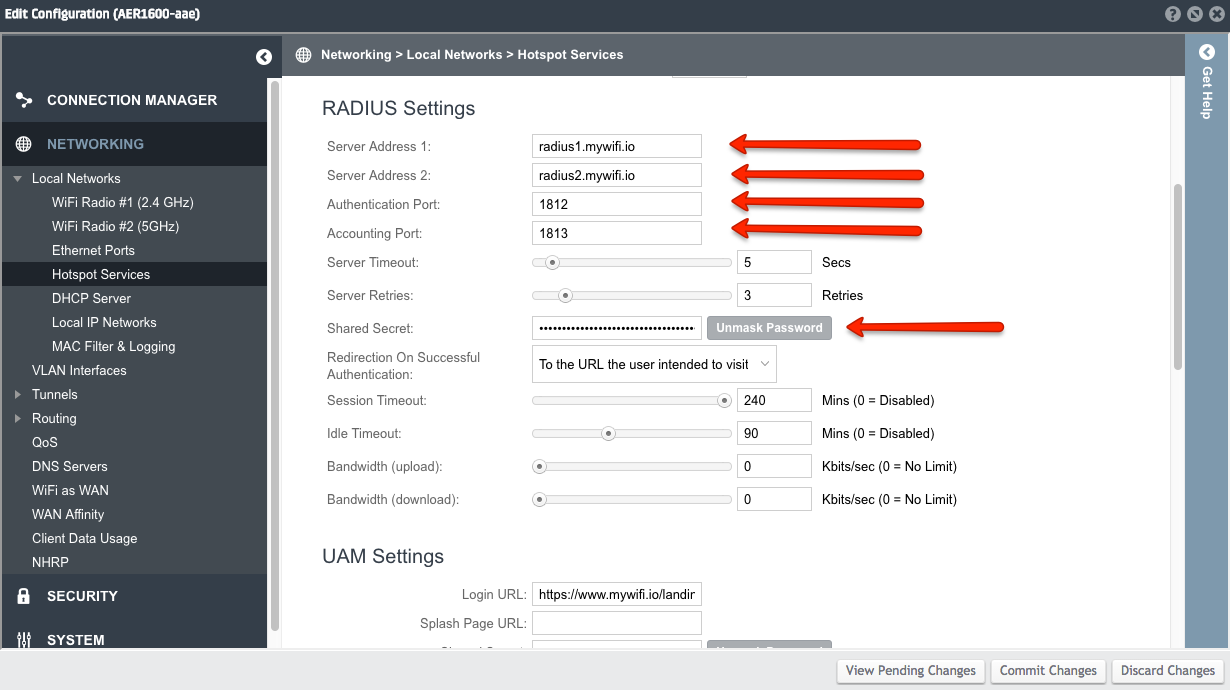 Enter the following UAM Settings
If you have a Custom Social Portal Enabled in the MyWiFi System. You may enter your Custom Social Portal Domain in the UAM Settings >> Login URL instead of "https://securewifilogin.com".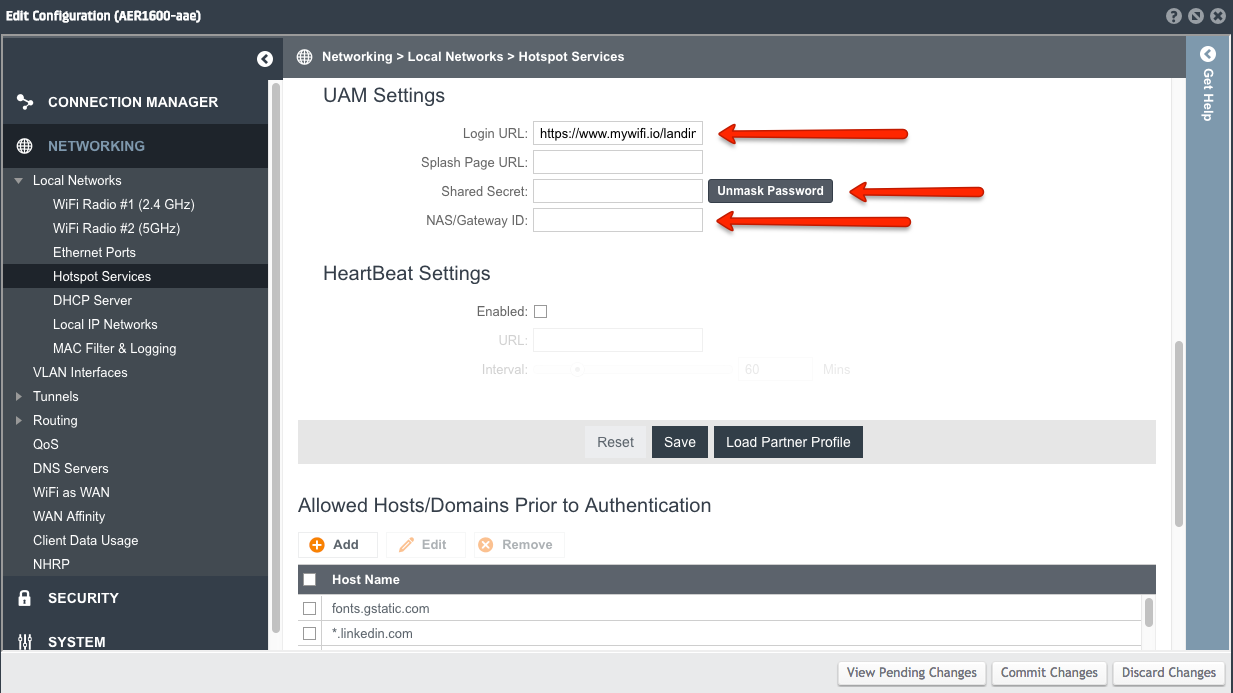 Save your Hotspot Settings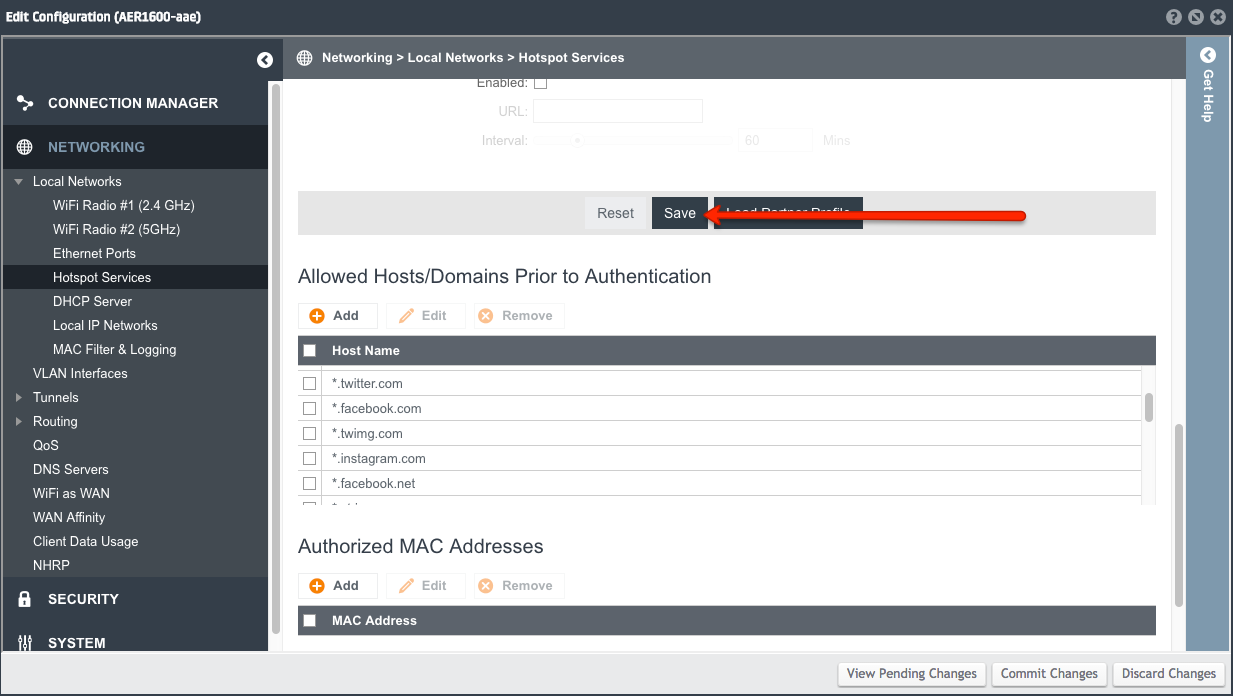 Configure your Allowed Hosts/Domains prior to Authentication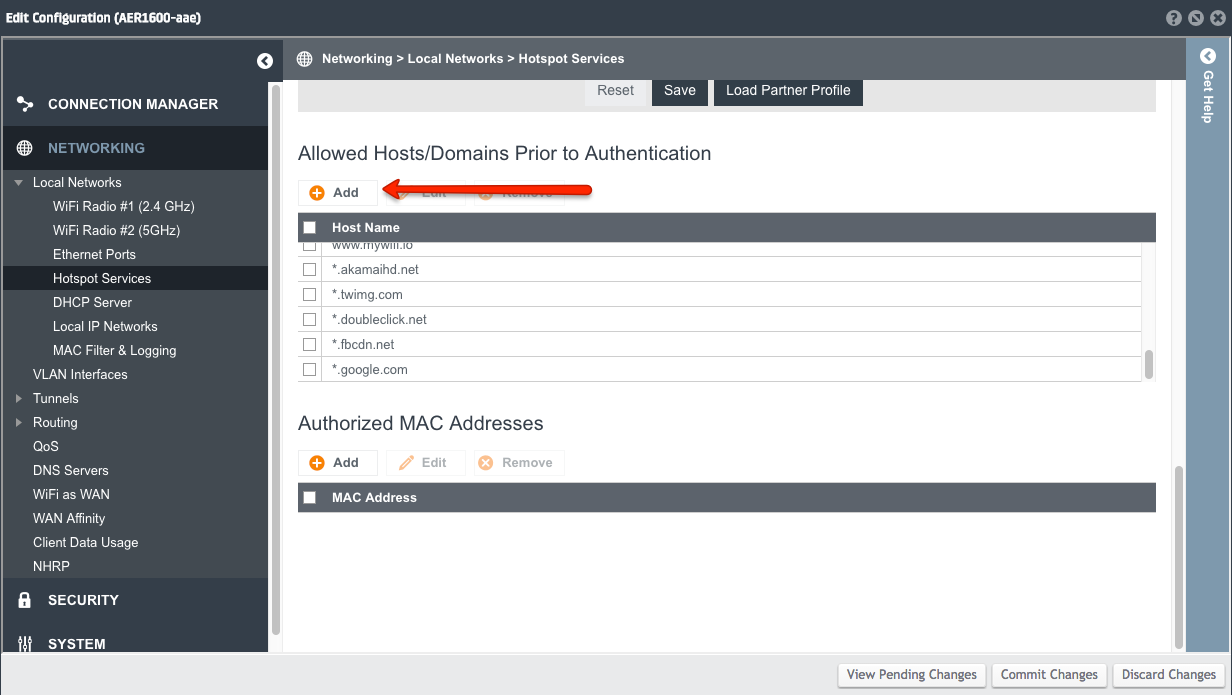 If you have a Custom Social Portal Enabled in the MyWiFi System. It is necessary to add your Social Portal Domain to the Allowed Hosts/Domains Whitelist, a placeholder for which is: *.<White Label Portal Domain> located in the list below.
Here is the complete list of domains that need to be whitelisted
Add Into Your Allowed Hosts/Domains Prior to Authentication List
*.<White Label Portal Domain>
*.mywifi.io
*.securewifilogin.com
*.cloudfront.net
fonts.gstatic.com
fonts.googleapis.com
*.linkedin.com
*.amazonaws.com
*.licdn.com
*.twitter.com
*.facebook.com
*.fbcdn.net
*.akadns.net
*.edgekey.net
*.edgesuite.net
*.akamaihd.net
*.akamaiedge.net
*.akamai.net
*.twimg.com
*.instagram.com
*.facebook.net
*.stripe.com
*.paypal.com
*.paypalobjects.com
*.twilio.com
*.vk.com
Commit your Hotspot Settings
Click on Commit Changes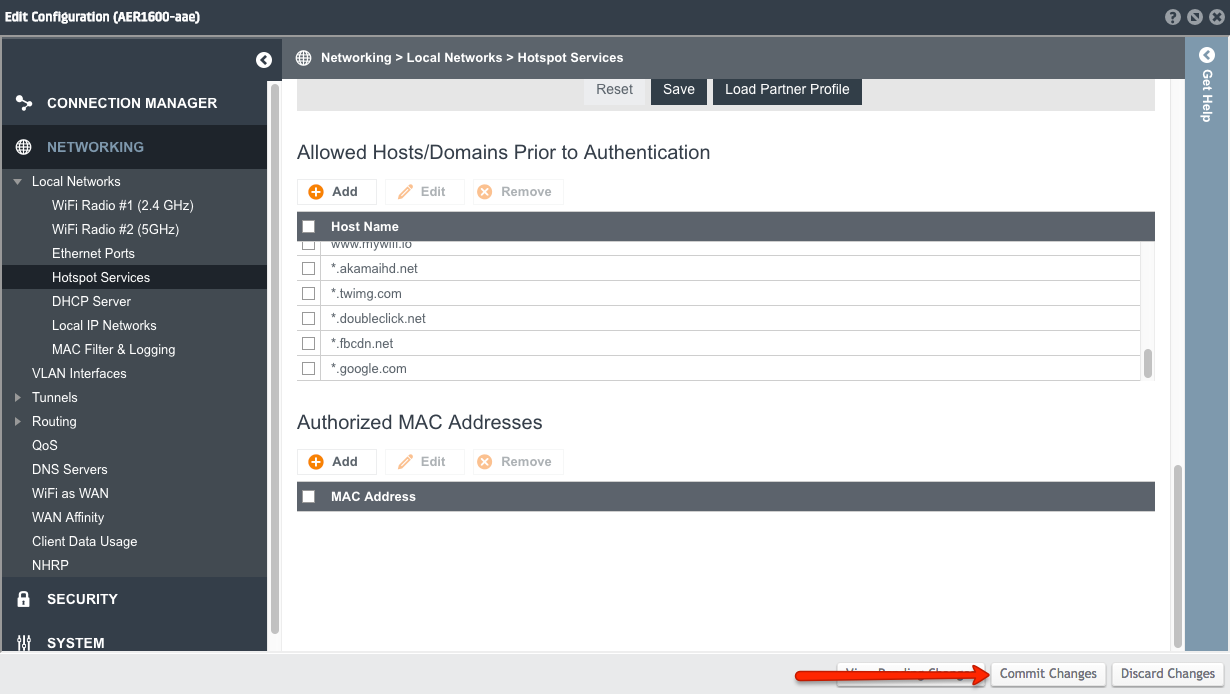 Congratulations! Your Cradlepoint Device is now Enabled for Guest Access.
Troubleshooting
If you are not able to access the captive portal after connecting to the WiFi. Or if you are entered in a loop when you attempt to access any specific URL. Please make sure that your captive portal splash page domain, that you entered in the "Custom Splash URL" field, is included in the Allow Hosts/Domains Whitelist.

Did this answer your question?