Open Mesh CloudTrax Presence Analytics Integration
Open Mesh CloudTrax Presence Analytics Integration
Updated by Kevin Zicherman
This guide will assist you in enabling your Open Mesh Access Points & Controller to communicate Presence/Proximity Data to the MyWiFi Dashboard.
Configuration Requirements

The configuration can only be applied on Open Mesh Access Points that are managed by a CloudTrax cloud controller

MyWiFi Platform Setup
Login Into the MyWifi Control Panel with your credentials.
Navigate to the Devices section.
Click on the Edit Device button on your Open Mesh Device .


 Go to the Presence sub tab and toggle the Enable Presence Reporting. Then Click Update.

CloudTrax Setup
Login into your CloudTrax Controller.
Select the Network under which your MiWiFi Networks hotspot is setup.
Click on Configure >> Advanced.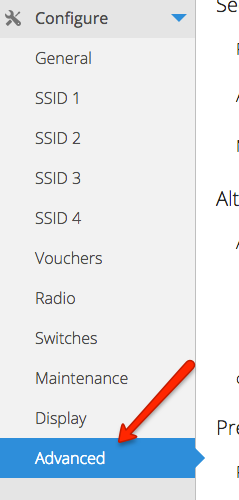 Paste the Endpoint URL you saved earlier into your Server Location field.
Paste the Secret key you saved earlier in your Key field.

Save the configuration by clicking on "Save Changes"
Congratulations! 
Your Open Mesh Network Access Points are integrated to report Presence/Proximity Data to the MyWiFi Dashboard.
Did this answer your question?