About the Opt-In Consent Form
The Opt-In Consent Form makes it easy to ask Guest Wi-Fi users to specifically confirm and opt-in to receive marketing messages and/or details of how you will use their data.

What is the Opt-In Form?
It is an optional part of the the Login Page (i.e. Splash Page/Access Page/Campaign). It is presented to the Guest after they complete the Login process and before they view any post-login items. The Opt-In Form requires the Guest to select one of the two options presented to them to confirm their consent: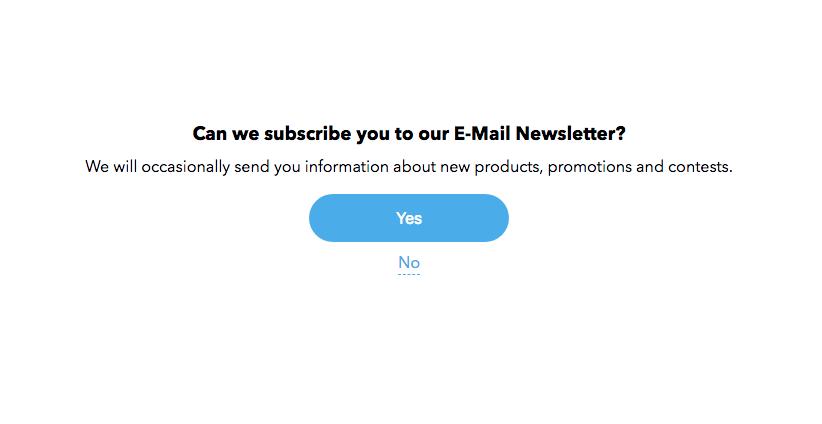 Guest Consent Choices: Yes (top button) indicates (Opt-In), No (bottom text) indicates (Opt-Out)
The completion of the Opt-In Form is discretionary for the Guest
The Opt-In Form is an additional step, above and beyond the Guest Agreement to the Terms of Conditions, which is established as the first step of the Login Process

How to use the Opt-In Consent Form
You may find compliance controls necessary to enable Guest Opt-In Consent and GDPR Compliance by Navigating from your Left Menu to Campaigns and click on "Add New Campaign" button or click on Edit button for an existing campaign.
Click on the Advanced tab:

Within the Advanced tab you will find the Compliance section: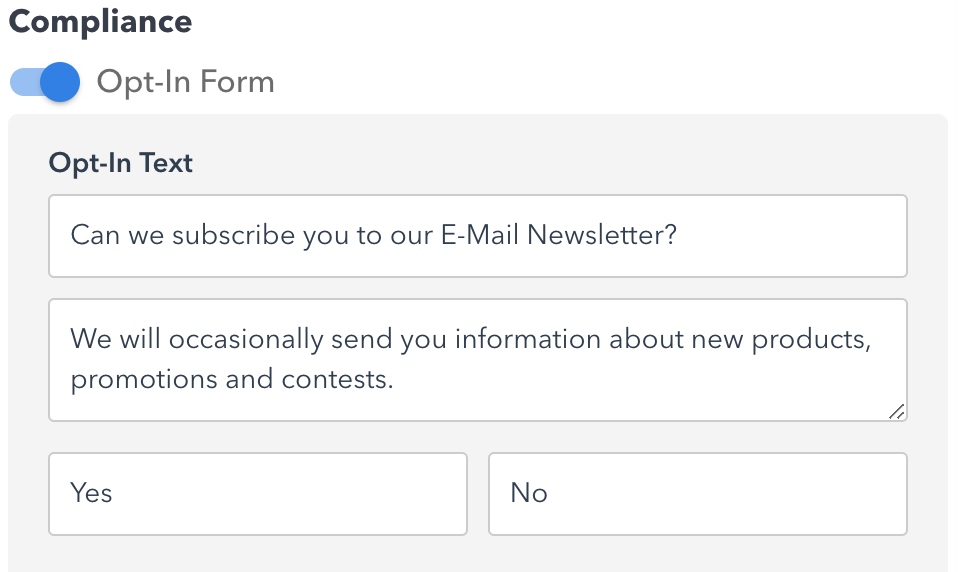 The Opt-In Form text is customizable in the Campaign builder: Advanced tab, Compliance section; and needs to be in clear and plain, intelligible language appropriate for the activity and Location 
The Post-Login Process [Advertising Interstitial (optional), Thank You Page, Redirect (optional)] will not be performed until after the Guest has made a selection on the Opt-In Form
The Opt-In Form is intended to assist you in establishing Guest consent to processes that run after the Guest logins to the WiFi; such as but not limited to: E-Mail Newsletter enrolment, birthday e-mails, customer feedback requests, contests, etc.
If the Guest does not make any selection or leaves the Opt-In Form, it will be assumed that they made a selection to Opt-Out by Default
Did this answer your question?